On July 21, 2016, we were at the growers for the final sorting-out.
This is the process to select fruit again on the tree to see if they are growing properly or discard damaged ones.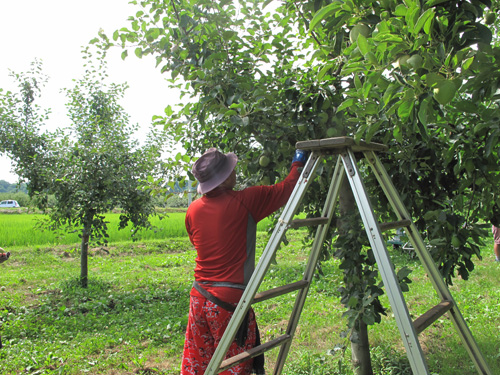 Here are some examples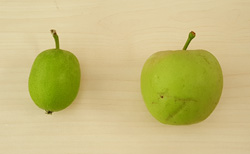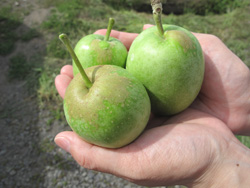 The un-pollinated dwarf fruit.                 The fruit with tough skin.
It is obviously long and small compared
with a pollinated one.
In the previous sorting-out, the stems were left on the branch. It is because the branch gets weaker if the stem ispicked, causing the remaining apples to easily fall from the tree.
But now the fruit becomes bigger and the left-over stems tend to harm the apples. The farmers are to drop the stems as they do the final sort-out. (The farmers call the stems "jigajiga.")
"Jigajiga" usually fall automatically. The rest need to becleared.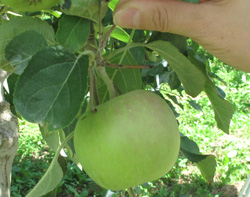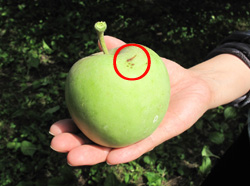 The photo on the right shows the damage caused by "jigajiga.
The final sort-out is done by hand as well. Since it is one of the important processes to encourage the fruit to grow, they look into the trees while sorting-out thoroughly and attentively during the hottest period of summer.

Apple University is a virtual university where you can learn many things about apples in a fun way. ⇒ Click here to go to the site.