introduction of aomori

Aomori prefecture is the northernmost prefecture on Honshu and faces Hokkaido across the Tsugaru Strait, the Pacific ocean in the east and the Sea of Japan in the west. Surrounded by three seas therefore, it is blessed with plentiful seafood.  Mountain products are also enjoyed due to the many mountains in the prefecture. The 'Shirakami-Sanchi' Shirakimi mountain range, which runs along the Akita-Aomori prefectural border, was listed as a World Heritage Site in 1993.
Beijing (China), New York (USA), Madrid (Spain) and Istanbul (Turkey) are located almost in the same latitude.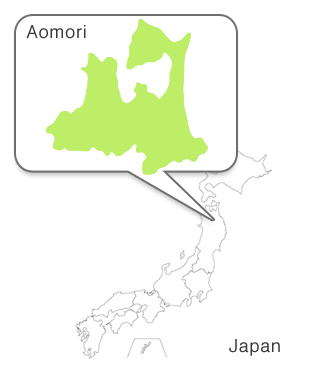 Area
9644.21km 2

Number of Cities:10

Number of Towns:22

Number of Villages:8

Prefectural: Flower
Apple Blossom
Prefectural:Tree
Hiba (Thujopsis dolabrata)
Prefectural:Fish
Flatfish
Prefectural:Bird
Bewick's Swan
Had the highest production in Japan of:
Apples
493,200 tons (2008年)
Garlic
13,900 tons (2007年)
Burdock
42,000tons (2007年)
Japanese yam
72,400tons (2007年)
Red squid
13,400 tons (2008年)
| | | | |
| --- | --- | --- | --- |
| Natural Beech Forest | 12,627 ha (Shirakami-Sanchi) | Oldest cherry tree in Japan | Planted in 1882 in Hirosaki park |
| world's longest underwater tunnel | Seikan Tunnel (Length 53.85 km) | Oldest apple tree in Japan | Planted in 1878 in Tsugaru city |
| Major Mountains | | Major Rivers | Length | Major Lakes& Swamps | Area |
| --- | --- | --- | --- | --- | --- |
| Mt.Iwaki | 1625m | | 142.4km | Ogawarako | 62.16km2 |
| Mt.Odate | 1584m | Iwaki | 101.6km | Towadako | 61.02km2 |
| Mt.Takada Odake | 1552m | Araida | 78.1km | Jusanko | 18.06km2 |
| Mt.Kusigamine | 1516m | Oirase | 70.7km | Takahoko Swamp | 5.65km2 |
| Mt.Mukaishirakamikake | 1250m | Takase | 63.7km | Obuchi Swamp | 3.58km2 |